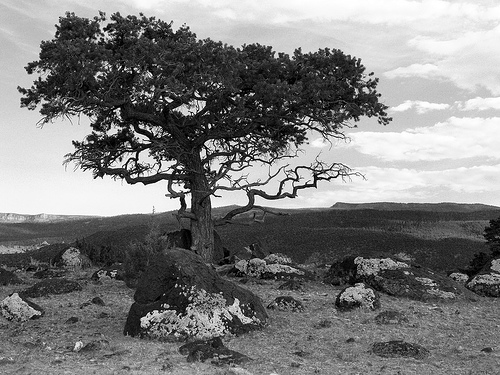 Better Than Good
Boulder, Utah   June 26-28, 2009
We are returning again to the beautiful alpine meadows and red rock desert of Boulder, Utah for the Better Than Good workshop this June.  Although we have had many Lost Coin retreats, this one will be different.  It will emphasize the core training of Lost Coin Zen.  Participants will come away from the workshop with tools to apply to their daily lives.  These tools are contemporary as well as deeply rooted in traditional practice and are part of the emerging paradigm Lost Coin embraces and Doen Sensei refers to as the "age of amplification".
We will sit zazen, have talks and interactive group trainings.  As always, Doen Sensei will conduct daisan (individual interviews and koan study with students), and we will also have time for solitary walks in the beautiful desert surrounding Boulder Mountain Lodge.
Please plan to arrive on the evening of June 25th to settle in.  We will start zazen at 9:00 a.m. on Friday, June 26th.  Our sitting area and the patio where we do kinhin (walking meditation) have lovely views of a pond that is also a bird refuge.
Boulder Mountain Lodge has very comfortable accommodations and an on-site restaurant, Hell's Backbone Grill, which is known nationwide for its innovative cuisine.  We often share lively (and delicious) dinners at Hell's Backbone.  Other options for lodging and dining are available, including nearby motels and camping sites and one restaurant within walking distance.  You are welcome to share rooms at the Lodge to reduce costs and enjoy each other's company; if you are not a member of Lost Coin and would like to ask about room-sharing, please email contact@lostcoinzen.com.
We have reserved a block of rooms; please call and make your own reservations.  Rates vary by type of room, and more information can be found at the Boulder Mountain website (www.boulder-utah.com).  When you call, please let them know that you are part of Lost Coin.
Please bring your own zafu and zabuton-and if you're coming from Utah and have extra zafus or zabutons, please bring them to share so that people arriving by plane do not have to pack them in their suitcases.
The tuition for this retreat/workshop is $250.
If you have any questions, please email contact@lostcoinzen.com or telephone Rebecca Long Okura at 801-550-8805 or toll-free at 800-731-5061.