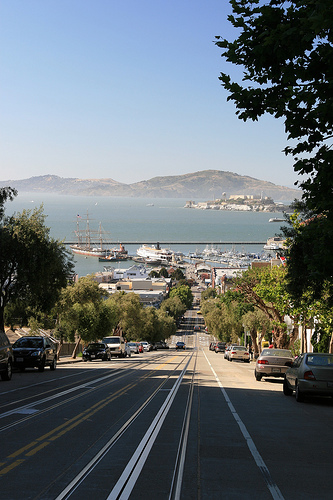 What do Alice in Wonderland, The Blue Cliff Record, San Francisco, and Kill Bill have in common?  Daniel Doen Silberberg Sensei, who has recently moved to San Francisco and will be holding the SF group's first meeting next week.
On December 16th, Doen Sensei will hold an introductory class for anyone who is interested in Lost Coin's unique blend of Zen, the Fourth Way, science, art, technology, and much more.  Doen Sensei is known for his accessible, humorous, and profound teaching style, and his newly-established San Francisco group is growing quickly.
If you're in the Bay area, please stop by.  The meeting will be on December 16, 2009, from 6:00-7:00 p.m. at 77 Park Hill Avenue, near Buena Vista Park. There is no charge, and please feel free to bring a friend or friends.
If you've read Doen's new book, Wonderland:  The Zen of Alice, you've already had a taste of Doen's style. This is your chance to journey down the rabbit hole with him in person, without having to travel to Salt Lake City, Germany, Florida, England, or any of the other places where Lost Coin has a strong presence.
We hope to see you there.  If you can't make it to the December 16th meeting, please contact us at contact@lostcoinzen.com, and we'll let you know when the next meeting will be.